How about that All Star Game last night! I still don't think an exhibition game should "count" in any way, but even I was moved by all those Hall of Famers gathered on the field at Yankee Stadium . . .
Yesterday I wrote about all the major league ballparks I've been to. I intended to go back and add links to each park, but it's easier to just direct you to Ballparks of Baseball where you can see and find out about all the past, current and future parks. I've also got some additions/updates for that post coming soon . . .
I wish I had made it to Tiger Stadium and the old Brewers park. I'm glad that many of the "new" parks are modeled after the great parks of old . . . and I hope I don't live to see the time when "all-purpose parks" come back into fashion . . .
In terms of minor league parks, here's the beginning of my list:
Bush Stadium in Indianapolis (Indianapolis Indians and some PanAm games)
Memorial Park in Brainerd, MN where the Brainerd Bears play (or played in the mid-90s)
American Legion Field and "Roger Maris Field" in Fargo, ND where the Fargo Red Hawks play (yes, I know they named the new park something OTHER than "Roger Maris Field", but that's because they were stupid and greedy); it's something like Jack Williams/"The Nest" . . . WHATEVER!
I'm pretty sure I saw the Columbus Knights play in Columbus, OH in the late 80s/early 90s
I think I went with the Goodman gang to see the Kane County Cougars play at Elfstrom Stadium in Geneva, IL
And of course, the Lakewood Blue Claws play at FirstEnergy Park in Lakewood, NJ. Go Blue Claws! Go Pinchy!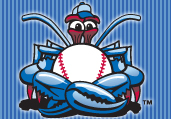 Then there's the Spring Training trip to Florida (Spring 1997) with Mom, Dad, Aunt Rosemary & Uncle Dick:
Jack Russell Stadium in Clearwater, FL (Red Sox/Phillies)
Ed Smith Stadium in Sarasota, FL (Yankees/White Sox)
Legends Field in Tampa, FL (Rangers/Yankees)
Ed Smith Stadium again (Tigers/White Sox)
Jack Russell Stadium again (Rangers/Phillies & White Sox/Phillies)
How do I know which parks I've been to? Because I have a SCOREBOOK and keep score at almost every game. Sometimes I have to give up (due to rain or a game that is more fun to watch than to score) and some parts of the scorebook say things like "DINNER BREAK" or "BATHROOM BREAK". Last year I read about some gals who go to games and keep score together, alternating innings. They write in "NPA" for "not paying attention" 🙂 I like that one!